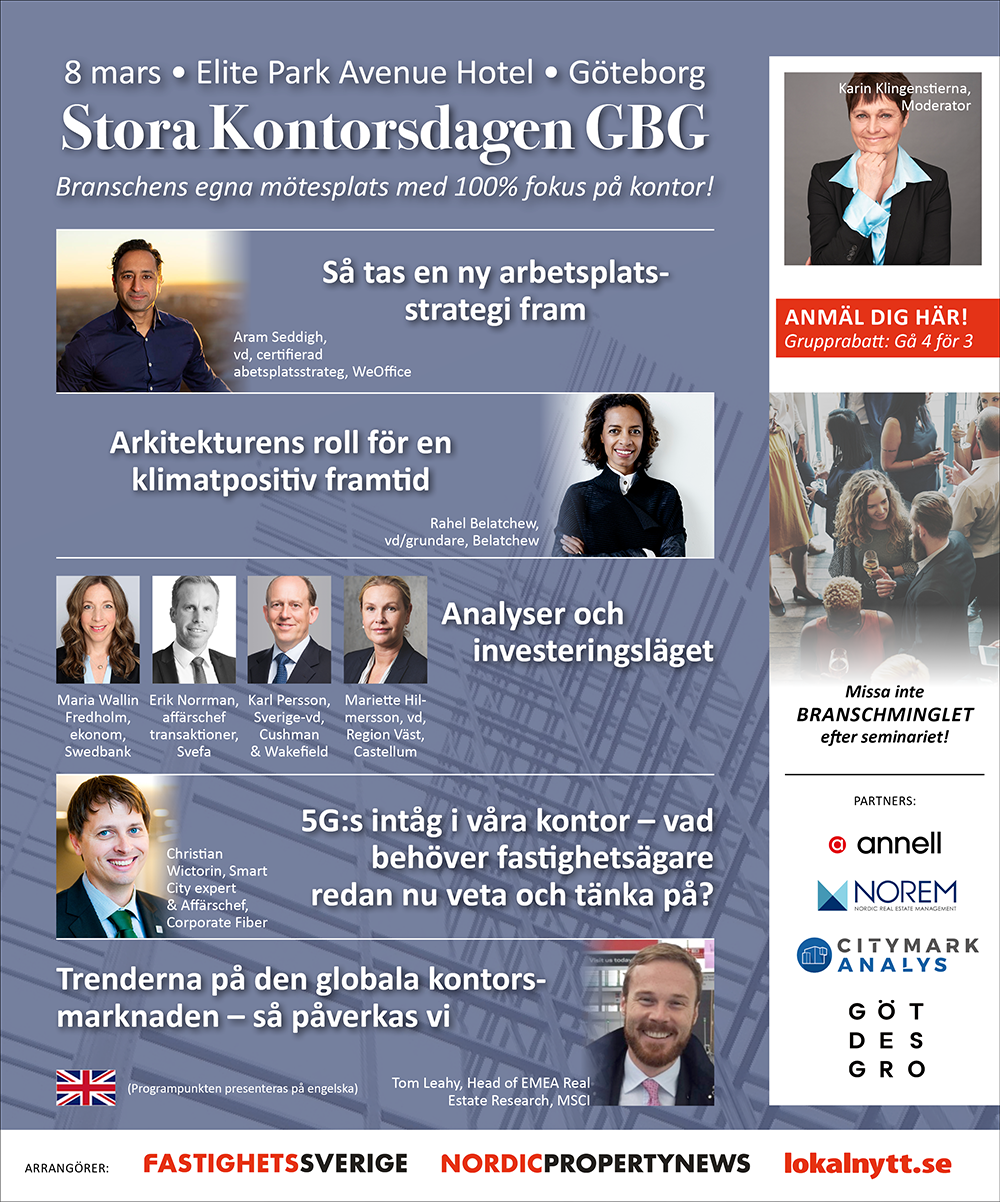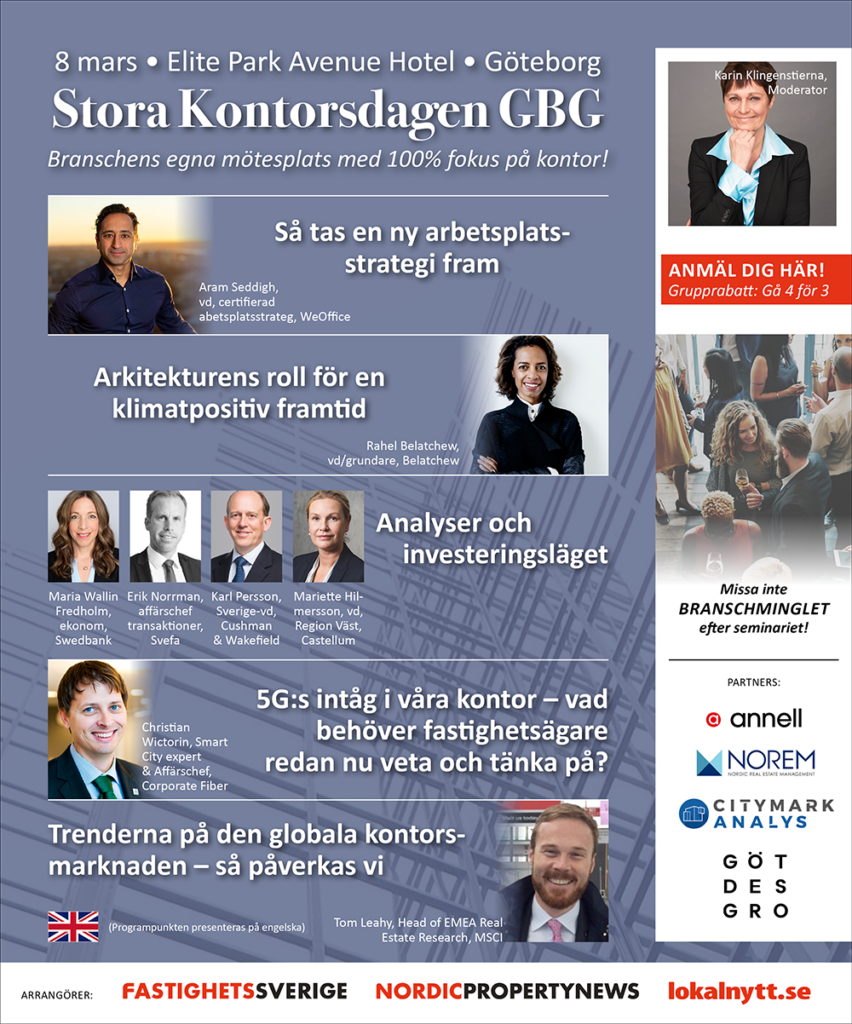 Stora Kontorsdagen anordnas av Fastighetssverige i Göteborg den 8 mars och är den självklara mötesplatsen för alla som i tjänsten kommer i kontakt med marknaden för kontorsfastigheter.
Du blir uppdaterad på det allra senaste inom kontorsmarknadens alla aspekter samtidigt som du får gott om tid för att knyta nya, värdefulla kontakter.
Aram Seddigh från WeOffice föreläser om hur nya arbetsplatsstrategier tas fram och presenterar de fem forskningsbaserade principer som ingår i Workplace Adequacy™ Framework. Du kommer även ta del av hur man tar fram en arbetsplatsstrategi och får medarbetarna tillbaka till kontoret.
Missa inte chansen att uppdatera dig på det allra senaste inom det spännande kontorssegmentet samtidigt som du knyter nya värdefulla kontakter.
Övriga talare på Stora Kontorsdagen Göteborg – 8 mars 2023:
* Maria Wallin Fredholm, Ekonom, Swedbank: Makroanalys – kommer vändningen nu?
* Tom Leahy, Head of EMEA Real Estate Research, MSCI: Analys – den globala kontorsmarknaden
* Erik Norrman, Affärschef transaktioner, Svefa: Analys – kontorsmarknaden nationellt och i Göteborg
Panelsamtal:
Investeringsläget på Göteborgs kontorsmarknad
* Karl Persson, Sverige-vd, Cushman & Wakefield
* Mariette Hilmersson, vd, Region Väst, Castellum

* Christian Wictorin, Smart City expert & Affärschef, Corporate Fiber: Fokus på digitalisering och 5G:s intåg i våra kontor

Panelsamtal:
Coworking och kontorshotell – fortsatt blomstrande eller överkörda?
* Emelie Mannheimer, VD på United Spaces
* Tom Rydell, VD på World Trade Center och
* Linda Abrahamsson, Hotelldirektör på Scandic Göteborg Central.

* Rahel Belatchew – Arkitekturens roll för att vända klimat-utvecklingen

Avslutningspanel: Kontorets roll i framtiden – visioner och breda tankar
* Marina Fritsche, vice vd/regionchef, Wallenstam
* Magnus Hagström, senior manager, Tenant and Partner
* Johanna Munck, vd, Strategisk Arkitektur
* Pär Carlsson, vd, Norem
Var: Elite Park Avenue Hotel
När: Onsdag 8 mars, 09.00 – 16.00 (registrering och frukostmingel från 08.15).
Välkommen – Läs mer om eventet här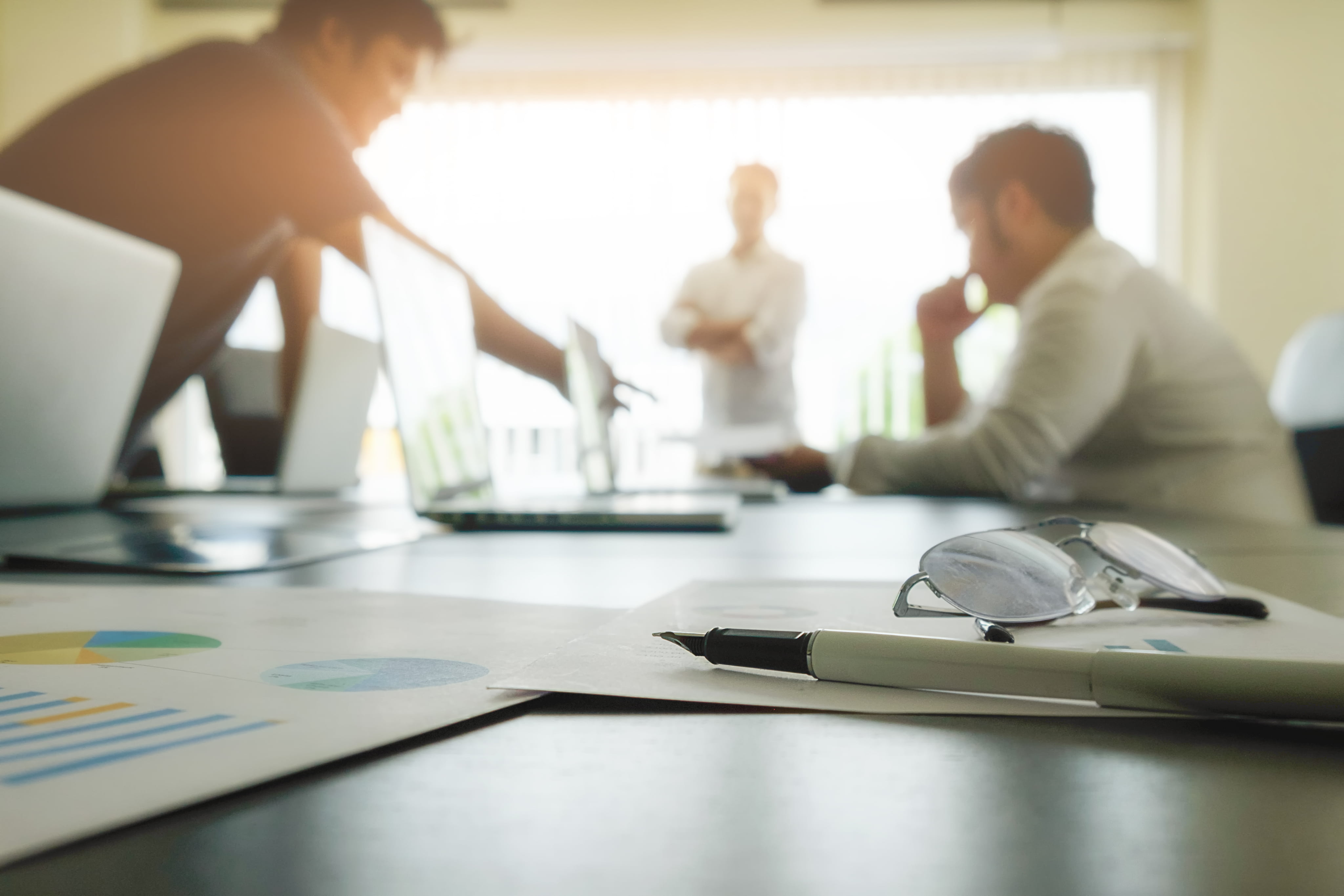 Kontakta oss
Skicka en förfrågan så vi kontaktar dig inom kort
Ta del av vårt nyhetsbrev
Håll dig uppdaterad genom att registrera dig till vårt nyhetsbrev där du kommer få ta del av nya rön, utbildningar och aktiviteter.
WeOffice Youtube

Följ oss på LinkedIn